There used to be a feature on WNYC by Leonard Lopate called "Underreported." In that same spirit, I want to start evangelizing some of the stuff that I think is great and is either underrated or just flies under the radar.
Full Benefits (Web series)
College Humor has quite a few webseries, but none have hooked me quite as much as Full Benefits. It's about two work friends who hook up after a party, then try to decide what they're going to do about it. The writing is just as hilarious as the best of College Humor, but it's also grounded by the leads who are genuinely likeable; not only do they have good chemistry with one another, they also look like people you'd like to hang out with. Each video is 2-5 minutes long, but it's packed full of character development, running gags, and weird jokes.
Sadly, there wasn't a third season because one of the star/writers, Sarah Schneider, left to write for SNL. I have no idea if she's still doing that, because I can't find her professional website, but hopefully one of these days I'll visit new york and steal the Season 3 Full Benefits scripts.
Youtube Channel: Community Channel
I can't believe this, but I can't remember the first of these personality-led YouTube videos that I saw. Over the years, I've watched gotten into some youtubers: vlogbrothers, sistersalad, zefrank, Charlie McDonnell. But although I haven't kept up with the others, I keep coming back to Natalie! She's hilarious and down-to-earth and imaginative and she's really good at splicing multiple versions of herself into videos. She's even got some recurring characters, like Tessa the shop attendant and the younger version of herself. Even her mom does an occasional hilarious cameo! It's so hard for me to pick a good video, but here's a random recent one:
Movie: Kissing Jessica Stein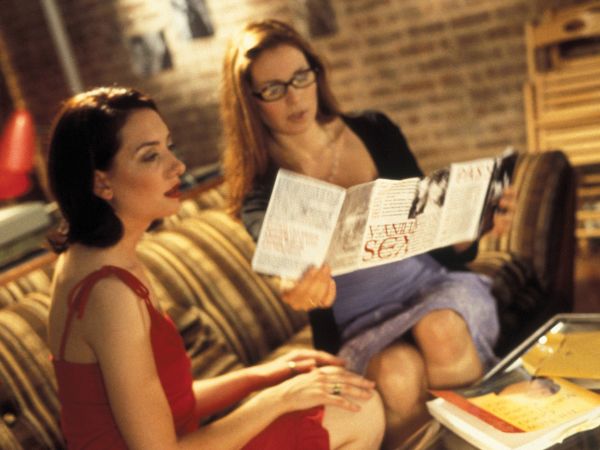 Kissing Jessica Stein is the first movie written by and starring Jennifer Westfeldt.  She went on to write Ira & Abby with my husband Chris Messina, and most recently Friends with Kids, which she also directed.
This movie is one of my favorite late-90's  early-aughts rom-coms, and it really holds up. It's also fun to see Max Medina and a young Derrick Bond (in addition to a dozen other actors who are now famous).
Band: The Organ
Picture a band that's a mix between The Smiths and Garbage, with a dash of Interpol.
Sounds good, right? That's the Organ in a nutshell, an early aughts  band with a mournful 80's sound (although they say that they were ignorant of the Smiths and similar 80's bands). Sadly, the band broke up before releasing a second full album. I was only lucky enough to hear about them on an episode of The L Word and I was instantly enchanted with lead singer Katie Sketch's voice.

This has been your first installment of Under the Radar! Let me know if you've heard of this stuff before, if you like it, hate it, or if you have your own recommendations of culture that flies under the radar!